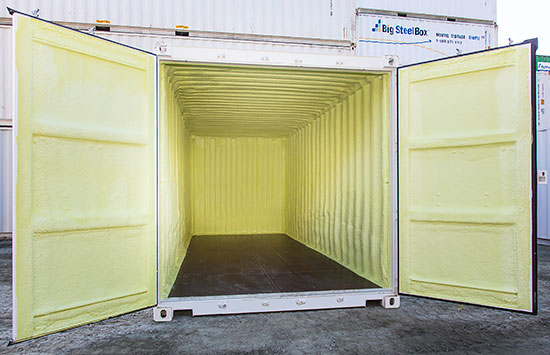 Spray Foam Insulation
Insulating a BigSteelBox using spray foam is the best way to avoid extreme temperature fluctuations and moisture issues inside your storage unit. 
While it's rare, there is potential for condensation inside a container if items being stored inside are damp, or if moisture gets inside during access or loading.
If you're storing or shipping products that need to be kept dry and at a stable temperature, insulating the ceiling and walls will minimizes the impact.
We can add spray foam to the ceiling, or ceiling and walls of purchased new or used BigSteelBoxes of any size.
Request Your Quote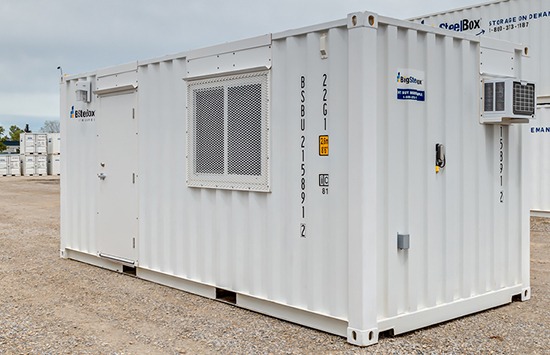 Doors and Windows
If you're looking to purchase a storage container with the added bonus of doors and windows, we've got you covered. We also rent and sell shipping container offices.
The windows and doors we install on your BigSteelBox will be tough and stylish! Adding a door will allow easy access to your container and windows will let some light in, yet they are built strong enough to protect your stored goods.
We're committed to making your experience as effortless as possible. Our stores are backed by a Canadian call center support team, so you can always get your needs and questions addressed quickly. And if there's ever a problem, we'll fix it.
Request Your Quote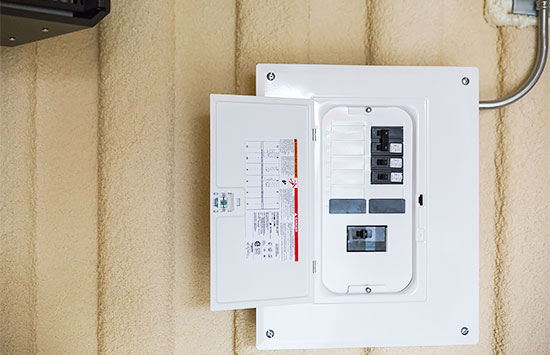 Electrical Options
Make your storage space more comfortable and efficient by adding an electrical package. When you buy a container from BigSteelBox, we make it easy for you to add power, heating and lights. We have 2 electrical packages to choose from:
Lighting Only: Includes the addition of lights, plug-ins and pigtail extension cord.
Heat & Lights: This option is great if you need temperature-controlled storage with lighting. This package includes an electrical panel, lights, plug-ins and a heater.
Simply choose the container you want (new or used) and the electrical package that works best for you, and we'll have it installed before delivery. With 13 modification service centers across our network, and a 1-year warranty that covers all the work, it's a solution that will fit your budget and give you a little extra peace of mind.
Request Your Quote